Lee Hoffman
From ZineWiki
Jump to navigation
Jump to search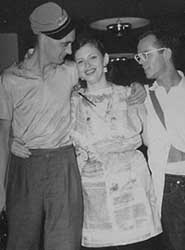 Lee Hoffman (1932-2007) was a fanzine editor, artist and writer of a number of books in the science fiction and western genres.
Lee Hoffman was the editor of several fanzines from the 1950s through the 1970s, including Quandry, her first zine, created when she was eighteen years old. At that time in the SF fan community there were not a lot of women editors and for the first year Quandry was published, during which time it became increasingly popular, many fans assumed she was male. While not actively attempting to fool people, Lee did not correct any misapprehensions until the Worldcon of 1952, where she appeared wearing a dress made of the pages of Quandry. Many fans and readers of her zine were shocked to discover that Lee was a young woman. All this only helped the popularity of Quandry, which became a very influential zine during the time it was published. Lee Hoffman was also the founding editor of Science Fiction Five Yearly, which she started in November 1951.
She was also active in the Folk Music community, editing fanzines like Caravan, followed by Gardyloo, at the time during the 1950s when folk music was just being rediscovered and becoming popular. Caravan may be the first fanzine published that was devoted solely to music. She was living in New York at this time and a part of the Washington Square scene.
Lee Hoffman published a number of one shot zines at various times during her publishing career, including Ye Boiffion Boy Birdwatchers' Bugle-Blast in 1957, with Larry Stark and Jean Young, co-editors of Garage Floor, and Jean's husband Andy Young. She also published short run fanzines such as The Chattahoochee, Okefenokee, & Ogeechee Occasional Gazette.
She was also the only person ever nominated for both the Hugo Award for Best Fan Writer and the Hugo Award for Best Fan Artist. She also won a "Retro Hugo" for "Best Fanzine" for Quandry in 2001.
Lee wrote four science fiction novels and seventeen westerns. She won the Western Writers of America Spur Award for her novel The Valdez Horses, which was made into a film by John Sturges in 1973. She also wrote an autobiographical account of her times, In & Out of Quandry in 1982.
In 2002, Lee was the recipient of a special one shot fanzine on the occasion of her birthday, entitled Happy Birthday, LeeH!, with fanzine editors, fans and relatives reminiscing in short articles, illustrations, and photos over times together.
She was blind in her final years and passed away on February 6th, 2007.
Zines
Contributions
External Links