Fanthology 76
From ZineWiki
Jump to navigation
Jump to search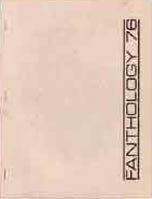 Fanthology 76 is a science fiction anthology edited by Victoria Vayne.
Fanthology 76 is a collection of writing and art published in fanzines in 1976. It was a 100 page mimeographed publication, released in 1977.
Contributors to this volume, in order of appearance are: Taral Wayne (DNQ) (with a full-page illustration, "Worldscon 127"), Harry Warner, Jr. (Horizons) (with an essay, "1976: The Year in Fandom," written specially for this volume), Bob Shaw, Victoria Vayne (as "J-P Sartre"), Mark M. Keller, Harry Warner Jr., Linda Bushyager (Granfalloon, Karass), Lee Hoffman (Science Fiction Five Yearly), Leroy Kettle, Mae Strelkov, Lou Stathis, Aljo Svoboda, D. M. Carter, Bob Tucker (Le Zombie, Science Fiction Newsletter), Don D'Ammassa (Mythologies), Tom Perry (Quark), Grant Canfield, Bob Wilson and David Emerson (Rune).
Aso included is art work by Jim Barker, Grant Canfield, Alexis Gilliland, Dan Steffan (Boonfark), Reed Waller, and Taral Wayne.
Victoria Vayne is also the editor of Simulacrum and co-editor, with Taral Wayne, of DNQ.