Boonfark
From ZineWiki
Jump to navigation
Jump to search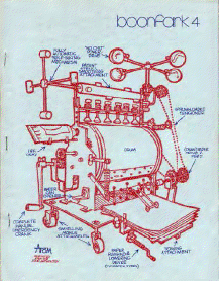 Boonfark was a science fiction fanzine by Dan Steffan.
The first issue appeared in 1974, and the second in 1977. And then Boonfark picked up speed a bit in 1979, and going into the 1980s five more issues were published until, at the end of the run in 1983, eight issues had been published in all.
Contributions of writing came from Gregory Benford (Void), Jim Benford (Void), rich brown, Steve Brown, Grant Canfield, Terry Carr (Lighthouse), Rich Coad, Alexis Gilliland, Lee Hoffman (Science Fiction Five Yearly), Gary Hubbard, Dave Langford (Ansible), Dave Locke (Awry), Eric Mayer (Groggy), Ray Nelson, Bill Rotsler, Larry Stark (Garage Floor, The Cambridge Scene), Bhob Stewart, Steve Stiles, Bruce Townley (Oblong), Ted White (Gambit), and Walt Willis (Hyphen).
Contributions of artwork came from ATom (The ATom Anthology), Jim Barker, Harry Bell (Grimwab), Richard Bergeron (Warhoon), Grant Canfield, Dave English (Fantasias), Ken Fletcher (Rune), Tom Foster, Alexis Gilliland, Jay Kinney (Nope!), Tim Kirk, Ray Nelson, Bill Rotsler, Steve Stiles, and Bruce Townley.
Dan Steffan was a noted fan artist himself and his zine also contained much of his own artwork, including a 3 part comic strip adaptation of Walt Willis' The Enchanted Duplicator.
Dan Steffan was one of the co-editors of Science Fiction Five Yearly in the 1980s, and went on to co-edit BLAT! with Ted White in the 1990s.