Void
From ZineWiki
Jump to navigation
Jump to search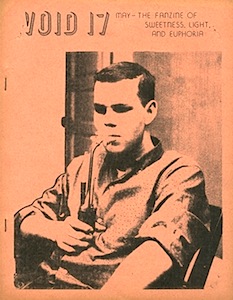 Void was a science fiction fanzine.
It was started in the 1950s by Gregory Benford and his identical twin brother Jim Benford, when they were living in Germany; they continued published upon their return to the U.S.A., but Jim Benford left after issue 13. Starting in 1959 there were various co-editors; The first was Ted White who became co-editor with issue 14, in 1958. In 1961 Gregory Benford left, and Peter Graham and Terry Carr joined, Carr merged his fanzine Innuendo with Void. Issue 28 was published in early 1962.
Seven years later Ted White and Terry Carr published the last issue, #29. As Ted White explains in the ConDor 2011 program book, "Terry and I had put much of it together in 1962, and in fact I'd run off a third of that issue in 1962, before bogging down on it. I hosted a New Year's Party at which the conversation turned at some point to that unpublished issue, and, Arnie Katz and John (D.) Berry in tow, Terry and I unearthed both the run-off pages and the file of unstencilled and unmimeoed material.
Let's finish it and put it out", someone said." And they did.
Contributing artists included Terry Jeeves (ERG), Eddie Jones, Bhob Stewart, Steve Stiles, and Arthur Thomson.
Contributing writers included Ron Bennett (Ploy), Eric Bentcliffe, John Berry (Pot Pourri), Dick Ellington (Metrofan), Richard Geis, Joe Gibson (G2, The Damned Patrol), Lars Helander, Jan Jansen (Alpha), Archie Mercer (Vector), Julian Parr, and Walt Willis (Hyphen).
Ted White has previously co-edited the fanzine Stellar with Larry Stark.
Peter Graham and Terry Carr also co-edited Lighthouse, which began in 1958 and ran till 1968. Terry Carr had previously co-edited Innuendo with Dave Rike from the mid-fifties till 1960, and co-edited Klein Bottle with Miriam Carr from 1959-1960.
External Links