Klein Bottle
From ZineWiki
Jump to navigation
Jump to search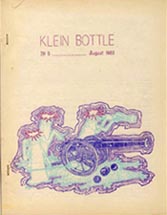 Klein Bottle was a science fiction fanzine by Terry Carr and Miriam Dyches/Carr/Knight/Lloyd as Miriam Carr.
Klein Bottle first appeared in 1959 and was published in San Francisco, California, U.S.A. Six issues were published. The first issue came out in May 1959 , the second in November 1959, and the rest were published in 1960, with #3 appearing in February, #4 in May, #5 in August, and #6 released in November 1960. Some issues were distributed by Fantasy Amateur Press Association.
Contributions of art work came from William Rotsler and ATom.
Issue 3, from February 1960, features a cover by William Rotsler; an editorial by Terry Carr; a reprot on the two Apas, "Fapasurvey and Sapsurvey Reports, Like", by Miriam Carr; "The Kookie Jar", a column by William Rostler; the discussion, "Like Man, A Gaggle of Geese" lead by G. Gordon Dewey with Al Ashley (Nova), Charles Burbee (Shangri L'Affaires), Elmer Perdue and William Rotsler on music and musicians; "Companion Piece" by Charles Burbee, expanding on the discussion; mailing comments by Terry and Miriam, and a letter of comment by Marty Fleishman. Interior art is by Rotsler and ATom.
Terry Carr had previously published the fanzine Innuendo in the 1950s, and was also publishing the fanzines Entropy and Lighthouse in the 1960s.
Miriam Dyches Carr had begun publishing fanzines under the title Goojie Publications in the late 1950s, and then co-published Klein Bottle (as Miriam Carr) with Terry Carr from 1959 till 1960. As well, Miriam replaced Ron Ellik as co-editor of FANAC, with Terry Carr, in 1960. After releasing A Funny Thing Happened On The Way To Poughkeepsie in 1963, she then did the fanzines 100% Whole Wheat with Robert Lichtman (later editor of Trap Door) in the 1960s.