Entropy (U.S.A.)
From ZineWiki
Jump to navigation
Jump to search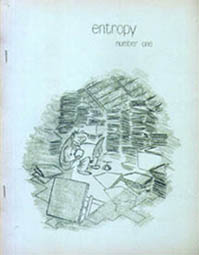 Entropy was a science fiction fanzine by Terry Carr.
The first, and only issue of Entropy appeared in November 1964, published in Brooklyn, New York, U.S.A. It was an 8 1/2 by 11 inch fanzine of 26 pages.
This issue was distributed with the November 1964 FAPA mailing, the December 1964 OMPA mailing, and the January 1965 SAPS mailing.
Entropy was dedicated to reprinting work by fanzine writers that had appeared as contributions in older fanzines (not their own fanzines), and combining them with newer illustrations.
Reprints included Mal Ashworth, from Brennschluss; Jack Darrow, from The Fourteen Leaflet; Dave English, from Fiendetta; Dean Grennell, from Contour; Walt Liebscher, from A Bas; Bob Tucker, from Oopsla!; and Sam Youd, from Fission.
Art work was contributed by Mervyn Barrett, Lee Hoffman (Science Fiction Five Yearly), Steve Stiles, ATom (The ATom Anthology), and Bjo Trimble (Pas-Tell).
At the same time as the fanzine, Terry Carr also released Entropy Booklets, which were comprised of entire stories reprinted from fanzines. The first one featured the story, "Crime Stalks the Fan World" by F. Lee Baldwin (The Star Rover), with illustrations by Ray Nelson.
After this one issue of Entropy appeared, Terry Carr began to produce a column, called Entropy Reprints, for other fanzines. Starting in Joyce Katz's Potlatch, it then began to appear in other fanzines such as Energumen and Holier Than Thou.
Terry Carr had previously published the fanzines Innuendo, Klein Bottle, and Lighthouse.
External Links