Nova (1940s)
From ZineWiki
Jump to navigation
Jump to search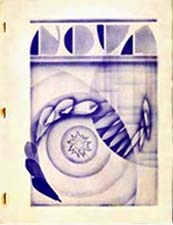 Nova was a science fiction fanzine released in the 1940s by Al Ashley, Abby Lu Ashley, E. Everett Evans, and Jack Wiedenbeck.
Nova was published in Battle Creek, Michigan, U.S.A. and included articles, reviews, fiction and features.
The first issue was published for November-December 1941, and featured a cover by Al Asley, and writing from Forrest J Ackerman (Voice of the Imagi-Nation, Novacious), Abby Lu Ashley, Al Ashley, Bill Brudy, E. Everett Evans, Edward E. Smith, Ph.D, Richard de T'oid, Bob Tucker (Le Zombie) writing as 'Hoy Ping Pong', and Jack Wiedenbeck.
Contributors to other issues included Forrest Ackerman, Abby Lu Ashley, Al Ashley, John W. Campbell, Ronald Clyne, Mary Gnaedinger, J. Harvey Haggard, Walt Liebscher (Chanticleer), Robert Lowndes, Alden H. Norton, Ross Rocklynne, E.E. 'Doc' Smith, Bob Tucker, Harry Warner, Jr. (Horizons), and Donald Wollheim (The Phantagraph).
Included in issue 3 was the article "What Price Fanzines", by Julius Unger, about the value fanzines would have in the year 1992, due to their limited runs. Also included were photos from classic horror films.
Art work was contributed by Al Ashley, Ray Bradbury (Futuria Fantasia), Ronald Clyne and Jack Wiedenbeck. The covers for the zines were silk screened.
Three issues of this fanzine were released, the first appearing in November 1941, the second in May 1942 and the third, and last, in Winter 1943.
Along with Atres Artes, Black Flames, Chanticleer, Fan, Guteto, Ichor, Le Zombie, Lethe, Shangri L'Affaires, Voice of the Imagi-Nation, Nova was included in the anthology fanzine Pacificon Combozine for the 1946 Pacificon Fourth World Science-Fiction Convention, as was the fanzine that Abby Lu and Al Ashley did for the Fantasy Amateur Press Association, entitled En Garde, and the fanzine E.Everett Evans published on his own, The Timebinder.
In 1945, E. Everett Evans became the first editor of The National Fantasy Fan.