Futuria Fantasia
From ZineWiki
Jump to navigation
Jump to search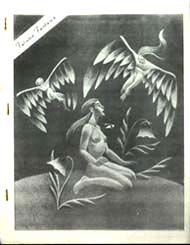 Futuria Fantasia is a science fiction fanzine by Ray Bradbury.
Released in 1939 shortly after Bradbury graduated from high school when he was 18 years old, Futuria Fantasia was published with the help of Forrest J Ackerman, who lent Bradbury $90.00 for the fanzine. The year before, Ackerman had included in his own zine, Imagination!, the first published story by Bradbury, titled "Hollerbochen's Dilemma".
Bradbury met Ackerman through the Los Angeles Science Fiction Society, which Ackerman helped to found. It was there that Bradbury also met Hannes Bok and Emil Petaja. Both were to contribute to Futuria Fantasia; Petaja offered his fiction and Bok contributed stories and poetry, as well as designing the covers and doing the interior illustrations for all four issues, plus the cover for a fifth issue that was never printed.
The first issue, released in Summer 1939, was 6 pages. It included Bradbury's short stories "Don't Get Technatal", under the pseudonym "Ron Reynolds", and the poem "Thought and Space". It also included short stories by T. Bruce Yerke (The Damn Thing) and Forrest Ackerman.
The second issue came out in Fall 1939 and included "Return from Death" by Hannes Bok (as "Anthony Corvais"), "The Pendulum" by Bradbury, an article by Bradbury under the name "Guy Amory", and poetry by Bradbury under the name "Doug Rogers".
The third issue contains an editorial by Bradbury and fiction by Emil Petaja (as himself and as "E. Theodore Pine"), Ross Rocklynne, and Henry Hasse.
Issue four, appearing in Fall 1940, includes an editorial by Bradbury and, writing as "Ron Reynolds", a short story called "The Piper", and as anonymous,"The Flight of the Good Ship Clarissa". It also includes "Heil!", a short story by Robert A. Heinlein writing as "Lyle Monroe", his only story published in a fanzine, and "The Symphonic Abduction", written by Hannes Bok and published anonymously. There were also short stories by Henry Kuttner and Damon Knight. The issue also included poems by Hannes Bok, J. Harvey Haggard, and Joseph E. Kelleam.