Atres Artes
From ZineWiki
Jump to navigation
Jump to search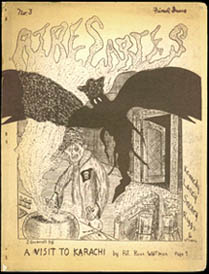 Atres Artes was a science fiction fanzine by Harold W. Cheney, Jr.
Three issues of Atres Artes came out in 1946. It was a hektographed publication.
The final issue, Volume 1, number 3 was released in 1946. It featured articles by Joe Kennedy (Vampire), F. Towner Laney (The Acolyte), Rick Sneary (Moonshine), and Jack Riggs (Lethe). The cover illustration is by Thomas Cockroft.
Along with Lethe, Black Flames, Chanticleer, En Garde, Fan, Guteto, Ichor, Le Zombie, Nova, Shangri L'Affaires, The Timebinder, and Voice of the Imagi-Nation, Atres Artes was included in the anthology fanzine Pacificon Combozine for the 1946 Pacificon Fourth World Science-Fiction Convention.
In 1947 Harold Cheney published two issues of Fantasy Aspects, a fanzine devoted to reprints, for The National Fantasy Fan Federation. Terry Carr, in the first issue of Entropy, mentions it as being the first reprint fanzine of older material that he had seen.
Harold Cheney went on to become involved in the Spectator Amateur Press Society (SAPS) and then the National Amateur Press Association (NAPA), where he released the publication In-Between. Then he moved onto electronic publishing with Mambrino's Golden Helmet, his most recent effort, that included the story "Amateur Publication and Me", his story of amateur journalism and fanzine production that won him Honorable Mention at the 2003 Laureate Awards.