Pacificon Combozine
From ZineWiki
Jump to navigation
Jump to search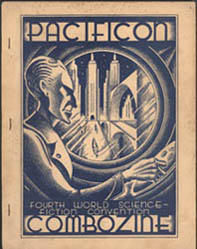 Pacificon Combozine was a science fiction fanzine collection issued for the Pacificon Convention in July 1946.
Pacificon was the 4th Worldcon which was held July 4 to the 7th, 1946. Pacificon Combozine, Fourth World Science-Fiction Convention, was created specially for the occasion. Each fanzine editor was asked to submit 4 to 6 pages, plus covers, of a special edition of their fanzine, either new material or reprints, on 8 1/2 by 11 inch paper, to be assembled alphabetically with the other fanzines, with a special commemorative cover.
Pacificon Combozine comprised 22 zines: The Atomic Age by Arthur Louis Joquel II; Atres Artes by Harold W. Cheney, Jr.; Black Flames, by Jim-E. (Virginia) Daugherty; Chanticleer, by Walt Leibscher; En Garde by Abby Lu Ashley and Al Ashley; Fan by Walter J. Daugherty; Fanews by Walt Dunkelberger; Five Fingers; Guteto by Myrtle Douglas (Morojo); Ichor, by Dale Hart; Lethe, by Jack Riggs; Le Zombie, by Wilson 'Bob' Tucker; Martian News Letter; Matters of Opinion, by Jack Speer; Phanteur, by D.B. Thompson; Plenum, by Milton A Rothman; Psycho; Shangri L'Affaires, published by LASFS; The Timebinder, by E. Everett Evans; 2B or Not 2B by Ron Maddox; VOMbozine, by Forrest J Ackerman and Myrtle Douglas (Morojo); Wolf Fan, and others.
Featured were short stories and fan fiction by Ray Bradbury (Futuria Fantasia), Jay Edwards, Jack Riggs, and E.J. Wyers.
Also included was art work by Virgil Finlay, Ray Harryhausen, Alva Rogers, and Jack Riggs.
Poetry was contributed by Chan Davis, James Russell Gray, Dale Hart, and Philip Schumann (Frontier), with reprints of work by William Blake.
As reported in File 770, in 2010 a copy of Pacificon Combozine sold for $3,500.00.
External Links