Frontier
From ZineWiki
Jump to navigation
Jump to search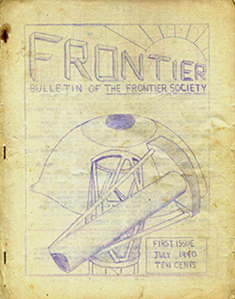 Frontier is a science fiction fanzine published by the Frontier Society.
The first issue was edited by Donn Brazier and released in July 1940 from Milwaukee, Wisconsin, U.S.A. Frontier was the official organ of the Frontier Society, a science based Fortean group, whose director was Paul H. Klingbiel, of West Bend, Wisconsin, U.S.A. For issue five, Philip Schumann assumed editorship, and Donn Brazier became associate editor. Paul Klingbiel became editor with issue six. Issue 7, released January 1942, may be the last issue, according to Harry Warner, Jr., writing in "All Our Yesterdays".
Contributions included Forrest J Ackerman (Voice of the Imagi-Nation, Novacious), writing on the need for Esperanto; Loretta A. Beasley, contributing "Some Experiences of a Professional Seeress"; Jack Brandon, with the story "The Devil's Prayerbook"; August Derluth, writing on H. P. Lovecraft; Ron Holmes, giving an account of an air-raid in "Fritz and his Blitz"; Hazel I. Shull, writing on Pennsylvania Dutch beliefs; Clifford Simak, on writing science fiction; George Tullis, with a short story; Morris A. Wolf, writing on Omar Khayyam's philosophy, and George Wetzel.
Other contributions came from Burton Filut, and others.
Illustrations were by Donn Brazier, among others.
Donn Brazier went on to publish the fanzine Title from 1972 till 1977, and Farrago from 1975 till 1978.
External Links