Novacious
From ZineWiki
Jump to navigation
Jump to search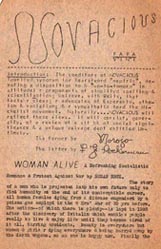 Novacious was a science fiction fanzine published by Forrest J Ackerman and Myrtle Douglas (Morojo).
Novacious was published in Los Angeles, California. U.S.A.
The first issue was released in December 1938. Issue two followed in March 1939, and three in June of the same year. Issue four was published in February 1940, with issue five in Spring, six in Summer and issue seven in December of the same year. It was distributed by the Fantasy Amateur Press Association.
In the first issue, the two co-editors declared themselves to be in favor of simplified spelling and scientiaction; Esperanto; and aetheism, socialism, and Michelism, and that Novacious would reflect these views.
One issue featured the transcription of Robert A. Heinlein's Guest of Honor speech, "The Discovery of the Future" which he deliverd at "Denvention", the 2rd World Science Fiction Convention in Denver, Colorado, July 4, 1941. It had been recorded on disc by Walter Daugherty, and transcribed for Novacious. This issue was released in an edition of 200 copies, with a reprint of 100 copies.
Myrtle Douglas and Forrest J Ackerman also published Voice of the Imagi-Nation. As well, Myrtle Douglas had released Stephan the STFan for the occasion of the First World Science Fiction Convention in 1939, and regularly published her own title Guteto.