Ichor
From ZineWiki
Jump to navigation
Jump to search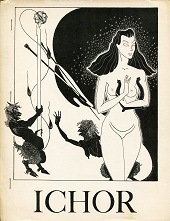 Ichor was a science fiction and fantasy poetry fanzine published by Dale Hart in Los Angeles, California, U.S.A.
Ichor ran for three issues, one in 1946 and two in 1947.
Contributing poets included Robert Peter-Aby, Rual Askew Jr., Redd Boggs (Sky Hook), Alex Chorney, George Crane, George Ebey (Sappho), Dale Harding Exum, Harvey Gross, Dale Hart, Richard Holt, Sidney Johnston, Robert W. Lowndes (Agenbite of Inwit, The Phantagraph), Marijane Nuttall (Mirage), Thelma Phlegar, Rupert Reynolds, and Donald Wandrei.
Cover art was by Alva Rogers for the first two issues, and Trin F. Bonn for the final issue.
Along with Atres Artes, Black Flames, Chanticleer, En Garde, Fan, Guteto, Le Zombie, Lethe, Nova, Shangri L'Affaires, The Timebinder, and Voice of the Imagi-Nation, Ichor was included in the anthology fanzine Pacificon Combozine for the 1946 Pacificon Fourth World Science-Fiction Convention.
Dale Hart was also an editor of Shangri L'Affaires during the year 1948.