Sappho
From ZineWiki
Jump to navigation
Jump to search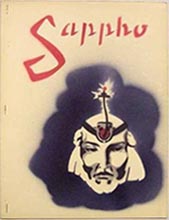 Sappho is a horror and science fiction poetry fanzine by Bill ("Willie") Watson and George Ebey.
Sappho was published in San Francisco, California, U.S.A. in the 1940s. It was an 8 1/2 by 11" mimeographed fanzine with an airbrushed colour cover. Six issues were released; a seventh issue was put together but never published. Published issues were released in June, August and October 1943, March and September 1944, and July 1945. The last two issues were distributed through the Fantasy Amateur Press Association mailings.
Contributors included Jean Arnold, Hannes Bok, Shirley Chapper, Roderick Christian, Corinne Ellsworth, Olivia Freeman, James Russell Gray, Arthur Louis Joquel II (as "Fywert Kinge") (Specula, Shangri L'Affaires), Arthur Kennedy, James L. Kepner (Toward Tomorrow, Toward Yesterday), Hilton J. Landry, Francis T. Laney, H.P. Lovecraft (as "Theobald"), Robert W. Lowndes, Hugh Madison, Jacques Malraux, Marilyn Marshall, Banks Mebane, John B. Michel (The International Observer of Science and Science Fiction), Sandra Michel, Sylvia Moore, Dorothy Morton, Marijane Nuttall, E. Hoffman Price, Clara Shanafelt, Graph Waldeyer, and Tom Wright.
Artwork was by John B. Michel (cover #3) and Jack Wiedenbeck (Nova) (cover #4).
Issue #4 included The Odes of Horace, Book III Ode IX, translated by H. P. Lovecraft as "Theobald's Translation" (Theobald, or Lewis Theobald, was an often used pseudonym of Lovecraft's), and credited as "courtesy" R. H. Barlow (Leaves) and F. T. Laney (The Acolyte).
Watson and Ebey also co-published the fanzines Bay Area Pullova (1944) and Tag-Line Musings (1944), and a collection of poetry by Marijane Nuttal (Crying Snowflakes, 1945).
In 1944, George Ebey also published his own book of science fiction and fantasy poetry, titled Star-Stung, as well as the fanzines Bay Area Le-Fout (1944) and Chaos (1945). Bill Watson also published the fanzine Diablerie.