Diablerie
From ZineWiki
Jump to navigation
Jump to search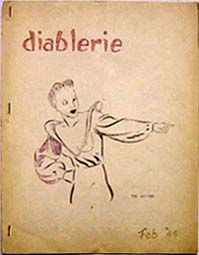 Diablerie was a science fiction fanzine by Bill "Willie" Watson.
The first issue of Diablerie appeared in February 1944, published in San Francisco, California, U.S.A.
According to Terry Carr (Entropy), writing in his column "Entropy Reprint" in Energumen #10, from May 1972: "Bill Watson was a San Francisco fan of the forties; his fanzine DIABLERIE appeared on all the polls for top fanzines of the time, but it's forgotten by most everybody but Harry Warner and me today. It doesn't deserve its obscurity; it was an exceptionally neatly produced fanzine, mimeographed with colour headings and illustrations. Some of the artwork, such as a drawing by Ronald Clyne, was offset and pasted in; and the 'About Our Contributors' section was illustrated by pasted-in photographs."
Contributions included poetry by Sara Borschow, George Ebey (Sappho), Lou Goldstone (Fantasia), James Russell Gray, Arthur Louis Joquel II (as "Fywert Kinge"), Ray Karden, Arthur Kennedy, Ben King, Banks Mebane, Sylvia Moore, and others.
Contributions of prose were by Robert Bloch, Charles Burbee (Shangri L'Affaires), John F. Burke, Eddie Clinton, George Ebey, Joe J. Fortier (Starlight), Lou Goldstone, Ray Karden, Francis T. Laney (The Acolyte), Walter Liebscher (Chanticleer), Marijane Nuttall (as M.J. Nuttall), E. Hoffman Price, Milton A. Rothman (Fantasy Fiction Telegram, The National Fantasy Fan), Bob Tucker (Le Zombie, Science Fiction Newsletter), Graph Waldeyer, and Harry Warner, Jr. (Horizons).
Illustrations were by Ronald Clyne, Bill Watson, and Jack Wiedenbeck (Nova).
Also contributing was E. Hoffman Price. Terry Carr says, "For DIABLERIE, self-styled as 'fandom's Esquire,' he wrote connoisseur articles on brandies, tobaccos and so on, and a reminiscence about his friend Robert E. Howard." E. Hoffman Price was perhaps the only science fiction writer or fan to actually meet Howard.
Letters came from Clark Ashton Smith, among others.
Seven issues of Diablerie were published, the last one appearing in January 1945. One revival issue was also published in August 1958.
Bill Watson co-published, with George Ebey, the science fiction and horror poetry fanzine Sappho. On his own, he published the titles Chaos and Fantasy Amateur.