Arthur Louis Joquel II
From ZineWiki
Jump to navigation
Jump to search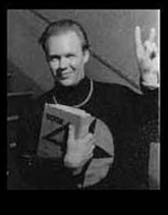 Arthur Louis Joquel II (1919-1974) was an editor and publisher of science fiction, fantasy and paranormal-oriented fanzines from the 1940s through the 1960s.
Occassionally, he published poetry under the pseudonym "Fywert Kinge". He also published at least one story in the pulps under the pseudonym William Graham.
An obituary for Joquel, written by Forrest J Ackerman, was published in Luna Monthly #52 (May 1974).
When the young men and women of the future go out into the vastness between worlds, and are able to feel and sense space like a tide washing over them, and see the stars cold and clear and hear the music of the galaxy, it will bring to them a new realization of man's place in the scheme of things.
The humanity of future ages will possess within itself the consciousness of new dimensions about which we of today can only speculate. But the new adventure of the space age may bring to its pioneers a small part of that vast knowledge and understanding" (The Challenge of Space 213).
Zines
California Anti-Scientist (1941) (never distributed)
Circus Day Is Over (essay by Tiffany Ellsworth Thayer) (Coventry Publications)
Embers and Ashes (poetry collection by James Kepner)
Shangri L'Affaires (selected issues from 1942-1946)
Songs for Sorrow and Beauty (poetry collection by James Kepner) (Coventry Publications)
Songs with Certain Dissonances (poetry collection by Frances Mayer) (Coverntry Publications)
Contributions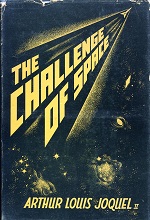 Books
After Armageddon and others (1941) (poetry pamphlet, as by Fywert Kinge)
Black Noon (1941) (poetry pamphlet, as by Fywert Kinge) (Introduction by T. Bruce Yerke)
The Challenge of Space (1952)