Sun Trails
From ZineWiki
Jump to navigation
Jump to search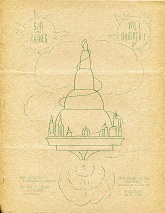 Sun Trails was a science fiction fanzine by Arthur Louis Joquel II.
This was a mimeographed fanzine published in Los Angeles, California, U.S.A. Only two issues of Sun Trails appeared, both in 1941, the first in February and the second in October.
The first issue includes articles on science fiction fans, an article on graphology, an analysis of the cost of science fiction if a fan buys all the U.S. pro sf magazines on the newstand, and a note mentioning his intention to create an orchestration for Tigrina's Hymn To Satan fanzine. In this first issue the editor is embroiled in a controversy with Isaac Asimov.
By the second issue the controversy with Asimov has been resolved. The second issue also contained the articles "Stfans - Race of the Future", in which Joqul dissects the notion of the superiority of sf fans, and the article "Less Introspection, Please!".
Contributions of art work came from Ray Bradbury (Futuria Fantasia).
Arthur Louis Joquel II also published FMZ Digest and Specula, and was editor of Shangri L'Affaires for the years 1942 - 1944. As well, he was a contributing editor to Theosophia magazine in the 1940s.