Hymn To Satan
From ZineWiki
Jump to navigation
Jump to search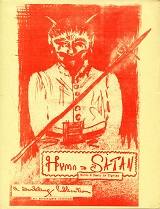 Hymn To Satan was a one-shot fanzine edited by Tigrina.
Hymn To Satan was published in 1941 in Los Angeles, California. U.S.A. It was likely the first filk fanzine.
According to F. Towner Laney, writing in Spacewarp #36 (1950), various members of the LASFS were involved in the occult, including Arthur Joquel II and Tigrina: "Joquel asked Ackerman to give him Tigrina to use as the altar for his black mass. Ackie for some reason refused. Most uncooperative, especially when you consider that Tigrina too was a Satanist -- at least she said so in VOM."
This undoubtedly has something to do with the fanzine Hymn To Satan, along with the stated intention of Arthur Louis Joquel II to create orchestration for Hymn To Satan, that he mentioned in the second issue of his fanzine Sun Trails, published in October 1941.
Hymn To Satan is included in the collection of The University of California Riverside Libraries.
Tigrina also published the fanzine Vice Versa.
External Links