FMZ Digest
From ZineWiki
Jump to navigation
Jump to search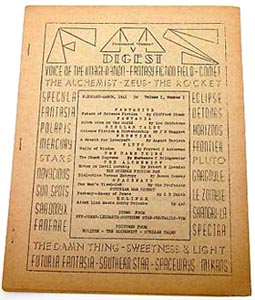 FMZ Digest was a science fiction fanzine by Arthur Louis Joquel II.
Pulbished in Los Angeles, California U.S.A., FMZ Digest, as the name implies, was a digest zine, reprinting notable stories and articles from fanzines published that year. It is believed to be the first fanzine digest to appear. "FMZ" was the early term used for "fan magazine", before the term "fanzine" came into general use. Six issues of FMZ Digest appeared in between February and October of 1941.
Contributors included Forrest J Ackerman (Voice of the Imagi-Nation), Eustance C. Bilgewater, Ray Bradbury (Futuria Fantasia), Walter J. Daugherty (Shangri L'Affaires), August Derleth, Donald J. Doughty, Fred W. Fischer (The Southern Star), Lou Goldstone (Fantasia), Harold Gottliffe, J. Harvey Haggard, Robert W. Lowndes, John B. Michel (under the pseudonym "Bowen Conway") (The International Observer of Science and Science Fiction), Allan Moss, Milton A. Rothman (Fantasy Fiction Telegram), Clifford D. Simak, D.R. Smith, F. Orlin Tremaine, Bob Tucker (Le Zombie), and Art Widner (FanFare).
Illustrations appeared from Harry Turner (Zenith).
FMZ Digest is of particular interest simply by virtue of its cover, which lists the names of 30 zines that were published at that time.
Arthur Louis Joquel II was also the publisher of Specula and Sun Trails, and editor of Shangri L'Affaires for the years 1942 - 1944.