Harry Turner
From ZineWiki
Jump to navigation
Jump to search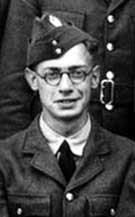 Harry Turner (1920 -2009) was a zine editor and artist who contributed to zines throughout the 1930s till the 2000s.
Harry Turner first began contributing to zines as a young man living in Leeds, England. When he joined the Leeds Science Fiction Assocation. he began to contribute to the UK's first SF zine, Novae Terrae. As more fanzines sprang up, Turner began contributing to them as well. He did artwork for the covers of most of the UK fanzines of the day, including The Fantast, Satellite, and Futurian War Digest.
In 1941 he began his own zine called Zenith which featured his illustrations, as well as contributions from notable SF fans and writers, including his future wife Marion Eadie, who soon became his co-editor. Five issues were published, with issue 5 appeared in 1942. It would be eleven years before issue 6 would appear, in 1953.
He returned to fanzine publishing in 1955 with Now & Then, with co-editor Eric Needham.
In the 1970s Turner was the Art Director for Zimri and he began producing beautiful covers which were recognized by the Checkpoint Readers Fan Poll, notably for Zimri #6, awarded Best Fanzine Cover of 1974.
Zines
Contributions
External Links