Now & Then
From ZineWiki
Jump to navigation
Jump to search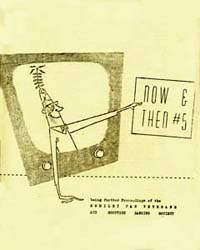 Now & Then was a science fiction fanzine by Harry Turner and Eric Needham.
The first issue was released in August 1954, subtitled, "Being the proceedings of the Romiley Fan Veterans & Scottish Dancing Society". It was filled with absurd fan fiction stories, and puns, poems, and other word play of a surrealistic nature.
Issue two appeared November 1954 with more fan fiction and the the addition of advertisements for "Widower's", a fictitious department store, sardonic mock ads on the black humour side, such as this example from Eric Needham:
Judas hanged himself from a bough
A curious use for trees...
What use to perish, no more to cherish
WIDOWERS WONDERFUL PEAS
Letters came from Ken and Pamela Bulmer and Sid Birchby.
Issue three arrived in 1955, this time with an illustration by Pat Patterson and written contributions by Sid Birchby, Robert Bloch, and Pat Darroll, and the usual fan fiction. However, with this issue each page featured beautiful 1950s illustrations by Harry Turner, along with the one mentioned by Pat Patterson. Also with this issue, Now & Then began to be distributed with Offtrails Magazine Publishers Association mailings.
The next issue was called a "Recap for Latecomers", with reprints of material from all the previous issues, plus a reprint of a poem by Eric Needham that was originally in Scottishe.
Issue four was released in 1955 and featured a cover drawing and an illustration by Pat Patterson, now Pat Lyons (Ibidem). Written contributions came from Chuck Harris (Hyphen), Jan Jansen (Alpha), Howard Lyons (Ibidem), Pat Lyons, and Archie Mercer (Vector). Letters came from Robert Bloch, Howard and Pat Lyons.
Issue five came out in September 1955, with written contributions from John Berry (Pot Pourri), Robert Bloch, and Rory Faulkner (Shangri L'Affaires), and with letters from John Berry, Robert Bloch, Rory M. Faulkner, Lynn A. Hickman (TLMA), Ethel Lindsay (Scottishe), Vernon L McCain (Wastebasket), and Boyd Raeburn (A Bas).
Issue six was out November 1955, a special Hallowe'en Issue with a contribution from Nigel Lindsay. Letters arrived from Mal Ashworth (Rot), Rory Faulkner, Terry Jeeves (Vector), Ethel Lindsay, Pat Lyons, Archie Mercer, Dennis Tucker, and Walt Willis (Hyphen).
Not till June 1956 did issue 7 appear with a photo of Fort Alamo by Richard Eney (A Sense Of FAPA) on the cover, and with illustrations by Arthur Thomson and Bill Turner, and contributions by John Berry, Gregg Calkins (Oopsla!), Joy Clarke (Science Fantasy News), Richard Eney (A Sense Of FAPA) and Rory Faulkner. Letters were from Gregg Calkins, Dean Grennell (Filler, Grue), Richard Eney, Ethel Lindsay, Vernon McCain, Fred Smith, Walt Willis.
January 1957 was issue 8 arrive with a cover and illustrations by Pat Patterson Lyons. The theme for this issue was 'Ergonomics'.
Issue 9 was intended to be the "Homes and Gardens" issue ofNow & Then, but it remained unpublished until it was eventually released along with Hyphen Issue 25. The contributors were John Berry, Robert Bloch, Paul Enever (Orion) and Dean Grennell.
Harry Turner had previously published the fanzine Zenith in the 1940s.
External Links