Critical Wave
From ZineWiki
Jump to navigation
Jump to search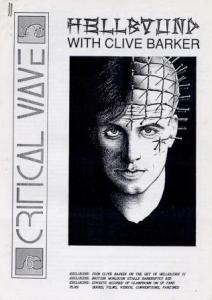 Critical Wave, later subtitled The European Science Fiction & Fantasy Review, was a British fanzine edited by Steve Green and Martin Tudor between 1987 and 1996. Early editions were mimeographed, with later issues photocopied or - very occasionally - professionally printed.
Contributors included Graham Joyce, Michael Moorcock (A Fanzine Called Eustace, Typo), Stephen Baxter, D West, Bob Shaw, Steve Sneyd (Data Dump), Charles Stross, Dave Carson, Iain Banks, Jim Porter, David A Hardy, Michael Marrak and Sue Mason.
Contributors of art included covers by Iain Byers, Kevin Clarke, and Harry Turner (Zenith, Now & Then).
Issues of Critical Wave featured a spotlight on science fiction and fantasy artists that had included Kevin Cullen, Dave Carson, David A. Hardy, Michael Marrak, Dave Mooring (Fuck The Tories), Russell Morgan, Jim Porter, Sylvia Starshine and Harry Turner.
In 2008, Green and Tudor announced plans to revive the title as an electronic fanzine. The first edition appeared on eFanzines.com that November, although technical problems delayed the follow-up.
External Links