Steve Green
From ZineWiki
Jump to navigation
Jump to search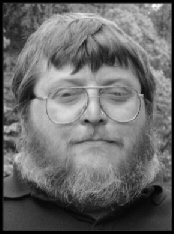 Steve Green (born Solihull, April 1960) is a British fanzine editor, writer, poet, convention organiser and occasional cartoonist. His first fanzine appearance took place in 1975; his editorial debut was Meta #1, distributed to members of the Birmingham Science Fiction Group in 1977.
Green's general-distribution fanzines include Critical Wave (with Martin Tudor), Thunderbox (with his wife, Ann Green), Astron (with Chris Cutts), Sounding the Ritual Echo, Gaijin, Railings and Closer to the Edge. His apazines include Omega (for the British Amateur Press Association), On Random Hold (for Apa-B, later known as The Organisation), Slow Voice (for APA:SF&F), Something For the Weekend (for the Nameless APA), Kurtz's Lament (for Hallowe'en), Free Radical, Basilisk, Pull Back to Reveal No Trousers, No Exit and Cyfddydd (for the Fantasy Amateur Press Association). He has also edited one fanzine for the Birmingham Science Fiction Group, Meta (with Noel Chidwick and Paul R Harris), as well as its monthly newsletter Brum Group News, plus two fanzines for the Solihull Science Fiction Group, Overmatter and Twilight Zine. During the 1990s, he edited The Register, a newsletter for the Black Lodge, a Birmingham-based horror group.
Under the pseudonym "Eddie Trenchcoat", Green co-edited (with Alan Keeley, as "Mr Damage") the spoof fanzine Horrorshow. Other pseudonyms have included "James Penfield" (used for capsule book reviews in Critical Wave) and "Stuart Conway" (briefly a member of The Organisation).
In addition, he's been the Official Editor of both The Organisation and BAPA, and vice-president of FAPA (2005-2007).
Shortly before chairing the British convention Novacon 37 in 2007, Green relaunched his column "Fannish Memory Syndrome" for The Drink Tank (previously published in the Seattle fanzine Apparatchik). In 2008, he announced plans to revive Gaijin after a 13-year absence, although nothing had appeared as of May 2009.
A selection of his fanzine articles (1986-2008), Are You Still Here?, was published in 2009 as part of Green's campaign for the TransAtlantic Fan Fund. He won and attended the Montreal worldcon, Anticipation.
Zines
Contributions
External Links