A Fanzine Called Eustace
From ZineWiki
Jump to navigation
Jump to search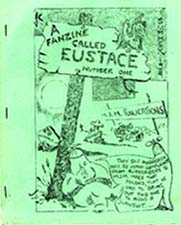 A Fanzine Called Eustace was a science fiction fanzine by Michael Moorcock.
A Fanzine Called Eustace was released in Surrey, England. The front cover declares it was released in Summer 1959, but inside on the contents page it is listed as Winter 1959. It was a one-shot. The Art Editor was Jim Cawthorn, and Assistants were Sandra Hall and Pete Taylor. The fanzine was duplicated on 'Permaprint' by Dick Ellingsworth.
The text on the front cover that the character is speaking jokingly gives a rationale for this fanzine: "They say Moorcock had so many complaints from subscibers to M.J.M. mags that folded, that he had to bring out this one to avoid a lawsuit".
Contributing artists include Graham Allen, Ray Nelson and ATom (The ATom Anthology). The cover is by Jim Cawthorn.
Contributions were "Crowings" by Michael Moorcock; "In One Easy Lesson" by Bob Lumley; "Invitation" by London Circle; "Film Review" by Alan Dodd (Camber); "Soho Interlude" by Michael Moorcock; "Don't Call me Comrade", a description of a trip to Russia by Sandra Hall (Vector); "Bookworming", an account of book-hunting adventures by George Locke (Smoke); "Under The Banner of the White Horse" by Bob Richardson; plus a letter from Ray Nelson.
Michael Moorcock had previously published the fanzines Rambler, Typo with Jim Linwood in 1957, and was one of the editors of Vector.
External Links