Camber
From ZineWiki
Jump to navigation
Jump to search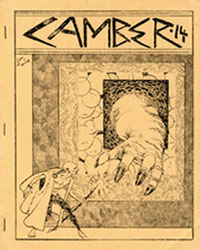 Camber was a science fiction fanzine by Alan Dodd (1934-2001).
The first two issues of Camber were edited by Fred Robinson of Cardiff, Wales, who had previously published Straight Up. The first issue appeared in the Summer of 1953. After the release of issue two, in 1953, he passed the editorship of the fanzine to Alan Dodd of Hertfordshire, England, who published issue 3 in December 1954, and continued to release Camber until June, 1964, when issue 14, the last issue, was published.
Contributors included Alvar Appeltoft, Ron Bennett (Ploy), John Berry (Pot Pourri), Terry Carr (Innuendo, Klein Bottle), Robert Coulson (Yandro), David H. Keller, and Warren Link.
Fiction was contributed by Dave Jenrette (later co-editor of Tabebuian), and Michael Moorcock (A Fanzine Called Eustace}.
Poetry was contributed by Orma McCormick (Starlanes).
The comic strip "Dodd's Fan-Dome" was by George Metzger.
Artwork was contributed by Jim Cawthorn, Bill Harry, Terry Jeeves (ERG), and Brian Lumley among others.
Issue 12 was largely devoted to Psycho, book by Robert Bloch, and film by Alfred Hitchcock.
Rob Hansen, writing in Then, Vol.2, Chapter 2, says, "Dodd was a recluse who communicated with other fans only through the mails, a situation that was to cause him some trouble later in the decade when American fan Dave Jenrette 'revealed' him to be a hoax."
Ron Bennett, in Mimosa #26, writes, "During the visit it occurred to us (Jenrette and Bennett) that we were the only fans who had actually met the popular but very reclusive Alan Dodd and so the plot was hatched, not to create a fan as Sandy Sanderson had done with Joan W. Carr, but to uncreate one, namely Alan. We immediately produced a small fanzine in which we announced that because a German fan named Helmuth Gebogen had paid a visit to 'Alan's' home in Hoddesdon in Hertfordshire and had discovered only a relative of mine living there, we had decided to 'come clean' and admit that there was no such person as 'Alan Dodd' -- he was a hoax! (I don't think that Alan was best pleased.)"
Despite this, Camber appeared in the Top Ten Fanzines of the Skyrack Readers Poll for the years 1959 and 1964.
External Links