Straight Up
From ZineWiki
Jump to navigation
Jump to search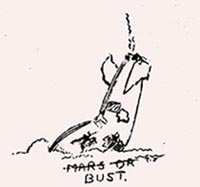 Straight Up was a science fiction fanzine by Fred J. Robinson from Cardiff, Wales.
Straight Up has been cited as the first science fiction fanzine to emerge from Wales. It was first published in February 1952 and appeared monthly for that year. It was a news and review fanzine covering radio, books, films, magazines, fanzines, conventions, and fan news. Issue 2 appeared in March, No. 3 in May, No. 4 in July, and No. 5 in October.
Contributors included Forrest J Ackerman (Voice of the Imagi-Nation), Billy Graham, Arthur F. Hillman, Terry Jeeves (ERG), Orma McCormick (Starlanes), Ken Potter (Brennschluss), Bob Shaw, Kenneth F. Slater, Tony Thorne, Walt Willis (Hyphen), and James White (Slant).
Denis Giford contributed a regular column on SF, fantasy and horror films and Charles Lee Riddle (Peon) wrote a column on SF news from the U.S.A.
Letters came from Fred C. Brown, Vince Clarke (Science Fantasy News, EYE), Lyell Crane, Bob Shaw, Walt Willis, and James White.
In one editorial Fred Robinson detailed the primitive equipment he was attempting to harness in order to produce his fanzine, and this was probably one reason for the lack of art work in the zine, although issue 2 featured a small, early illustration by Terry Jeeves.
During the same year as he published Straight Up, Fred Robinson had been one of the co-editors of the 1952 one-off fanzine Our 'Zine, co-edited by Vince Clarke, Jim Rattigan (EYE), Fred Robinson, Bob Shaw, and Mike Wilson.
Fred Robinson announced in the final issue that he would soon be publishing a new fanzine called Camber.
External Links