Maya
From ZineWiki
Jump to navigation
Jump to search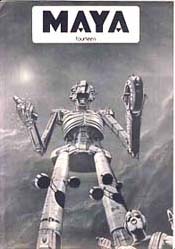 Maya was a science fiction fanzine published in the UK.
The first issue of Maya was released in 1970. it had a couple of editors, starting with Ian Williams for the first two issues. Issue 3, in April 1972, saw Ian Maule take over editorship. As of February 1975, for #7, Rob Jackson assumed editorship, and he remained with the title till it ceased publication after 15 issues, in June 1978.
Contributors included Mark Adlard, Brian W. Aldiss, Doug Barbour, Jim Barker, Greg Benford (Void), Graham Boak (Badinage), Larry Chortle, Lisa Conesa (Zimri), Malcolm Edwards (Vector), Roj Gilbert, Mike Glicksohn (Energumen), John Dennis Neilson Hall, Gary Hubbard, Marsha Jones, Roy Kettle, Bill Kunkel (Rats!, Four Star Extra), Mary (Reed) Legg (Crabapple, Link), Chris Morgan (Brum Group News), Thom Penman, John Piggot, Chris Priest, Dave Pringle, Darrell Schweiter, Ritchie Smith, Brian Stapleford, Peter Weston (Speculation), Walt Willis, Ted White (Gambit, Null-F), Gene Wolfe, and the editors.
Covers were by Kevin Cullen (#2), Harry Bell (Grimwab) (#3, #9), Harry Turner (#8), David Hardy (#10), and Derek Carter (#15); with interior art work by Jim Barker, Harry Bell, Grant Canfield, Alan Hunter, Jim Marshall, and Bill Rotsler. The first issue contained a comic strip by Jim Marshall and Ian Penman.
The 1975-1976 Checkpoint Readers Fan Poll gave Maya first, second and third place for Best Fanzine Cover, for issues 9, 8 and 10. Maya issue 3 won the Checkpoint Readers Fan Poll for Best single issue of a British Fanzine in 1972, and Mary Legg won Best Article for her series in Maya #2 and #3, "Looking Back". In 1975 it won for Best Fanzine.
In 1975 and 1976 it won the Nova Award for Best Fanzine.
In 1977, Maya won the FAAn Award for Best Fanzine for issue 11, edited by Rob Jackson (a tie with The Spanish Inquisition) and 1978, won again for issue 14.