Link (UK)
From ZineWiki
Jump to navigation
Jump to search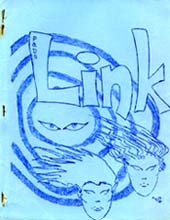 Link is a fanzine by Beryl Henley and Mary Reed, published in the UK.
Link was distributed via PADS, as an apazine for the British Science Fiction Association. The first issue was co-edited by Beryl Henley, Mary Reed and Anne Campbell and appeared in 1964.
This was Beryl Henley's first fanzine. Later, under her married name Beryl Mercer, she continued publishing, with titles such as Oz; The Damned Patrol with Joe Gibson (G2), John Berry (Pot Pourri), and Terry Jeeves (ERG); and The Middle Earthworm with Archie Mercer, as well as contributing to zines, and other activity in the science fiction and fantasy fandom scene of the 1960s.
It was also Mary Reed's first fanzine, before going on to publish her own title, Crabapple.
Link included the first of Mary Reed's "Tribe X" stories, which were early 'fan-fiction' incorporating herself and her friends under pseudonyms interacting with various famous rock stars.
Artwork and cover was contributed by Mike Higgs of the Birmingham SF Group.
Link and other fanzines of the period, represented the "New Wave" of fans and fandom at that time. As such, they were often in contention with previous generations and Link was frequently at the centre of the controversy. The last issue of Link appeared in January 1966, although a one-off, called Linklox appeared later in 1966 that consisted of letters of commentary on the zine.