Beryl Mercer
From ZineWiki
Jump to navigation
Jump to search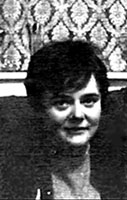 Beryl Mercer (nee Henley) (1924 — 12 October 2003) was a fanzine editor from the UK.
Beryl Henley was married and had two young sons when she discovered fandom and fanzines. Despite appearances, she was far from a typical housewife; according to an article by Jim Linwood, published in the pages of Prolapse, she was a witch who was a member of a local coven. She soon became popular in fandom through her first fanzine, produced in the 1960s, called Link, and co-edited with Mary Reed. Link was published from 1964 till 1966, but not without a certain amount of controversy. This fanzine is regarded as one of the "New Wave" of zines emerging in the 1960s, who were often at odds with an earlier generation of fanzine editors and fans.
As reported in Prolapse, this antagonism between new and older fans was widely written about in fanzines, and in the pages of Beyond Beryl Henley took up the case of the newcomers, while Archie Mercer explained the position of established fans. Ironically, a year later the two were having a relationship and living together and were soon married.
Beryl then went on to do her OMPA zine Oz throughout the rest of the 1960s, while Mary did Crabapple.
From 1966 till 1967, Beryl Mercer was one of the co-editors with Joe Gibson (G2), John Berry (Pot Pourri) and Terry Jeeves (ERG), of The Damned Patrol, a fanzine made by SF fans that was devoted to aviation.
In 1968, she co-edited one issue of Grimwab with well known fan artist Harry Bell. That same year, the first manned spaceship orbited around the moon. Beryl Mercer echoed the popular sentiment of the day in her fanzine DEC. 27th., 1968 which, she wrote, was...
"...offered as a token of my gratitude to the people of the USA. I would have given ten years of my life to have been fit enough and brilliant enough to have been a member of Apollo-8's crew."
She returned to this theme later in 1969, with Moon-shot Oneshot.
In 1969, Beryl Mercer won the "Doc" Weir Award, presented annually at Eastercon for service to British fandom.
In the 1970s Beryl began to co-edit fanzines with her husband, Archie Mercer. She joined him on his publication the Mercatorial Annual and later the two began co-editing The Middle Earthworm, which saw 29 issues published between October, 1968 and June, 1976, Their next fanzine, The Once and Future Worm, first appeared in October of 1976 and saw fifteen issues released, the last one in June 1981.
Zines
Contributions