Grimwab
From ZineWiki
Jump to navigation
Jump to search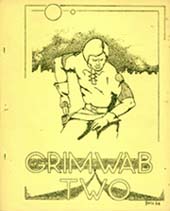 Grimwab was a science fiction fanzine by Harry Bell.
This was Harry Bell's first fanzine, published in the 1960s and distributed by PADS in the UK. The first issue appeared with the fifth mailing of PADS in January 1966.
Contributions included "The Bristol Binge", a report on the 1967 Bristol Convention by Darroll Pardoe (Les Spinge). Other contributions came from Archie Mercer, Ken McIntyre, and Chris Priest, with reprints of pieces by John Berry (Pot Pourri, The Damned Patrol), and Vince Clarke (Science Fantasy News).
Five issues were released. The last issue, co-edited with Beryl Mercer (Link, Oz, The Middle Earthworm), who was also a contributor, appeared March 1968.
After Grimwab folded, Harry Bell stopped his fanzine activity for a few years but had returned by the 1970s, winning the 1971-1972 Checkpoint Reader's Poll Award for Best Fan Artist and the Fan Activity Achievement Award (FAAns) for Best Fan Artist - Humour Award for 1977.
External Links