Checkpoint
From ZineWiki
Jump to navigation
Jump to search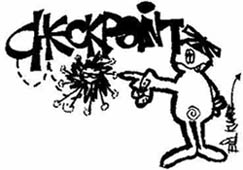 Checkpoint was a science fiction newsletter published by Peter Roberts, then Darroll Pardoe, and then Ian Maule.
Checkpoint was published in the UK in the 1970s. Peter Roberts published the zine from April 1971 till April 1974, when Darroll Pardoe assumed editorship. He remained editor till December 1975, at which point Ian Maule took over till September 1976 when Peter Roberts returned as editor and continued to publish Checkpoint till the 100th issue appeared in September 1979.
The first Checkpoint Fan Poll appeared in issue 21 from August 1972. It was the first British Fan Poll since the Skyrack Fan Poll of the late 1950s and early 1960s. The Poll included the categories Best Fanzine, Best Single Issue, Best Fanwriter, Best Fan Artist, and Best Article.
Contributors of news included Don Allen, Harry Bell (Grimwab), Ron Bennett (Skyrack), Eric Bentcliffe (Amizine Stories. Bastion), John D. Berry (Egoboo), Gerald Bishop, Graham Boak (Badinage), John Brosnan, Joanne Burger (Pegasus), Ken Cheslin, Lisa Conesa (Zimri), Edward Connor (Science Fiction Echo), Malcolm Edwards, Bryn Fortey, Jim Goddard, Roberta Gray (Vagary), David Grigg (The Fanarchist), Gerd Hallenberger, Phillippe Hupp, Robert Jackson (Maya), Jan Jansen (Alpha), Terry Jeeves (ERG), Robin Johnson, Jerry Kaufman (The Spanish Inquisition), Nick Landau, Mary Legg (Crabapple), Ethel Lindsay (Scottishe), Jim Linwood (Typo), John Mansfield, Ian Maule (Maya), Archie Mercer (Vector), Seth McEvoy, Harry Nadler, Pauline Palmer (Wild Fennel), Rosemary Pardoe (Wark), James Parkhill-Rathbone (Macabre), Hartley Patterson, Philip Payne, John Piggot, Graham Poole, Ben Prole, Julien Raasveld, Brian Robinson, Dave Rowe, Josephine Saton, Daniel Say, Nick Shears, Bob Smith, Phil Spencer, Brian Temple, Tony Triggs, Keith Walker, George Wells, D. West, Peter Weston (Speculation), Ian Williams, Charlie Winstone, and Susan Wood (Energumen, Aspidistra).
Art work was contributed by Don Allen, Harry Bell, Carl Bennett (Scintillation), John D. Berry, Dany Frolich, Mike Gilbert, Alexis Gilliland, Bill Kunkel (Rats!), Tim Marion, Barry Kent McKay, Bill Rotsler, Nick Shears, Stu Shiffman (Raffles), Paul Thompson, Taral Wayne (DNQ), Don West, and Roger Woods.
External Links