Rats!
From ZineWiki
Jump to navigation
Jump to search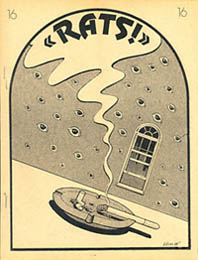 Rats! is a science fiction fanzine by Charlene Komar Kunkel and Bill Kunkel.
Rats! was published in New York, U.S.A. beginning in the late 1960s and continuing into the 1970s.
Both editors contributed columns to this "fannish fanzine", which also included music criticism, art, and regular columns.
Contributors of writing included Arnie Katz (FIAWOL), Richard Meltzer, Ray Nelson, Bob Shaw, and Greg Shaw (Feemwlort, Mojo-Navigator Rock & Roll News, Metanoia).
Contributing artists included Grant Canfield, Tom Foster, Jay Kinney (Nope!), Ray Nelson and Bill Rotsler.
Contributing columnists included John Berry's (Pot Pourri) column 'Kebab', Frank Lunney's (Beabohema) 'Accidents', and Harry Warner, Jr.'s (Horizons), fan history about 'The Fapaish Fifties'.
Letters came from Ray Nelson and Ted Pauls, among others.
Charlene and Bill Kunkel also published Four Star Extra with Joyce Katz and Arnie Katz, and The two couples published the wrestling magazine The Main Event. Bill Kunkel went on to be a video game developer and journalist, founding the videogame magazine Electronic Games with Arnie Katz and Joyce Worley in 1981 and serving as Executive Editor till 1995. In the 1990s, he and wife Laurie published the fanzine Doodlebug. He later also editing the gaming magazine Tips & Tricks, as well as writing the book, Confessions of a Game Doctor in 2005. He died on September 7, 2011. Charlene Komar Storey became an editor and writer for trade magazines; publisher and editor of a travel newsletter, "Exploring Ireland," with her husband Greg Storey, and a freelance travel and nonfiction writer for newspapers and magazines. She is also a councilwoman in her home town.