FIAWOL
From ZineWiki
Jump to navigation
Jump to search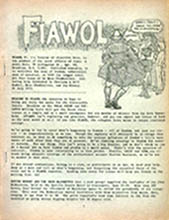 FIAWOL is a science fiction fanzine by Arnie Katz and Joyce Katz.
The initials FIAWOL stand for Fandom Is A Way Of Life, and appropriately FIAWOL was a news zine reporting on events in science fiction fandom. It was published in the 1970s in Brooklyn, New York, U.S.A. It called itself "the fanzine of objective bias".
The first issue was published in July 1972, with issues 2 and 3 appearing the same year. At least eight issues came out, with issues 4, 5, and 6 released in December 1973, and issues 7 and 8 in 1974.
In September 1972, Checkpoint # 23 said if the first issue, "FIAWOL is a fine, new, fannish newszine..."
Contributors of art work included Ross Chamberlain (Fangle). Included in issue 2 is an editorial by Joyce Katz, and the 1971 Egoboo Poll, with the results appearing in the 5th issue.
FIAWOL was published concurrently with Joyce Katz's fanzine Potlatch and Arnie Katz's fanzine Focal Point. Later in the 1970s Arnie and Joyce co-published Four Star Extra with Bill and Charlene Kunkel. In the 2000s, Arnie Katz published Vegas Fandom Weekly, and Joyce Katz released Hard Science Tales.