Potlatch
From ZineWiki
Jump to navigation
Jump to search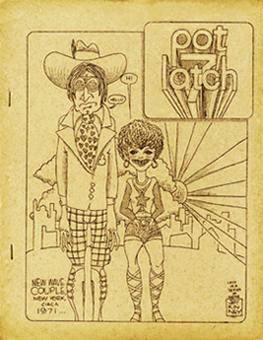 Potlatch was a science fiction fanzine by Joyce Katz, at that time named Joyce Fisher.
Published in Brooklyn, New York, U.S.A., Potlatch was one of the Brooklyn Insurgent fanzines of the 1970s, along with Focal Point and Rats!.
The first issue appeared in December of 1970. Eight issues were released, the last one in February 1972.
According to Arnie Katz in Vegas Fandom Weekly #59, it was during the run of Potlatch that fan Ted Pauls alleged that Joyce Katz was destroying science fiction, and dubbed her "The High Priestess of Brooklyn Fandom". In their counter attack in the pages of Potlatch Terry Carr and Arnie Katz embraced the idea of Joyce as "High Priestess", which seemed to cool down a potential fan feud.
Also in Potlatch was the first appearance of the "Entropy Reprints" columns of Terry Carr, after the success of his publication of the one-issue-only Entropy, devoted to reprints from older, classic fanzines.
Other contributors included Arnie Katz, Bill Kunkel (Rats!), and Bob Tucker (Le Zombie).
Covers were by Jay Kinney (Nope!), and illustrations were by Ross Chamberlain (Fangle), Jay Kinney, Bill Kunkel, and Ned Sonntag.
Joyce Katz was publishing Potlatch at the same time as she and Arnie Katz were releasing FIAWOL. She had previously co-published the fanzine ODD in the 1950s till 1969,and then What About Us Grils? from 1969 to 1970. In the late 1970s, she published Four Star Extra with Arnie Katz and Charlene and Bill Kunkel. Joyce went on to publish Hard Science Tales in the 2000s.