Wild Fennel
From ZineWiki
Jump to navigation
Jump to search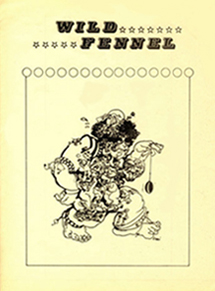 Wild Fennel was a science fiction fanzine by Pauline Palmer.
Wild Fennel came from Bellingham, Washington, U.S.A. It was published in the 1970s, with the last issue released in September 1978.
Issue 9 was released July 1974.
Issue 10, released February 1976, featured contributions of writing from Donn Brazier (Farrago), Ed Cagle, Don Cole, Ben Indick (Ibid), Arthur Knight, Glee Knight, R.D. Lakin, Wayne Lee, Eric Lindsay (Gegenschein), S.L. McKay, and Jeff Schalles (Science Fiction Five Yearly). Cover art was by Scott Wallin.
Double issue 12 and 13, published November 1976, featured work by Jodie Offutt, John Alderson, Paul Walker, Eric Lindsay and others. Cover art was by Kari Vallquist.
Issue 14 appeared in February 1978.
The last issue, issue 15, of September 1978, included writing by Doug Barbour, Joseph Nicholas (Vector), Tilda Palmer, and Cliff Wind. Cover art was by Victoria Poyser.
Contributors of poetry included Jonathan Vos Post, and Jessica Amanda Salmonson (Windhaven).
Peter Roberts, in his Checkpoint #94 of February/March 1979 review, says Wild Fennel is an "Attractive & distinctive genzine."