Stet
From ZineWiki
Jump to navigation
Jump to search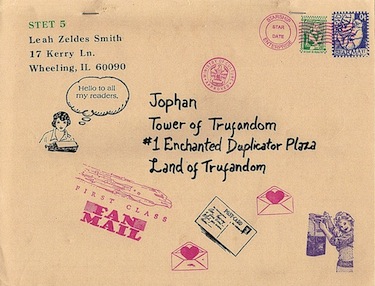 Stet was a science fiction fanzine by Leah Zeldes Smith and Dick Smith.
Stet was published in the 1990s in Wheeling, Illinois, U.S.A. The title is Latin for 'let it stand' and refers to the proofreaders term that is used to indicate that text that was marked for deletion should be retained. The first issue appeared in November 1990, with the next three issues following in 1991, and three more in 1992. After a long pause, issue 9 was released in 1999.
Contributors of writing included Buck Coulson (Yandro), George Flynn, Dwight Decker, Mike Glyer (File 770), Greg Hills, Dave Langford (Ansible), Eric Lindsay, and Mike Resnick.
Contributors of art work included Sheryl Birkhead, Kurt Erichsen, Brad Foster, William Rotsler, Stu Shiffman (Raffles), and Harry Turner (Zenith).
Issue 9 was subtitled The Old Fan's Almanac and was a parody of The Farmer's Almanac, and included the reintroduction of the advertisements in verse for the department store "Widowers", first seen in Harry Turner and Eric Needham's 1950s fanzine, Now & Then.
Letters came from Avedon Carol (Pulp), Mike Glicksohn (Xenium), Jerry Kaufman (Mainstream), Nicki Lynch, Ray Nelson, Harry Warner, Jr. (Horizons), Walt Willis (Hyphen), and Gene Wolfe.
Dick Smith and Leah Zeldes Smith went on to publish the fanthology Contact! in 2001.
External Links