Contact!
From ZineWiki
Jump to navigation
Jump to search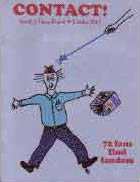 Contact! is a science fiction anthology fanthology published and edited by Dick Smith and Leah Zeldes Smith.
Contact is a collection of short anecdotes by 72 fans describing how how they first discovered science fiction fandom. It is a 100 page fanzine, published in October 2001, in Prospect Heights, Illinois, U.S.A. It also served double duty as issue 4 of the Smith's fanzine Spirit Of Things Past. The fanthology begins and ends with quotes from The Enchanted Duplicator by Bob Shaw and Walt Willis, followed by the introduction, "Our Fandom and Welcome To It", by Leah Zeldes Smith.
Contributors of art work include Jim Barker, Sheryl Birkhead, Kurt Erichson, Alexis Gilliland, Teddy Harvia, Barry Kent MacKay, Catherine Mintz, Bill Rotsler, Stu Shiffman, Leah Zeldes Smith, and Larry Tucker.
Contributors include Forrest J Ackerman, Harry Andrushak, Judy Bemis, Sheryl Birkhead, David Bratman, Ned Brooks (It Goes On The Shelf), Linda Bushyager (Duprass, Granfalloon, Karass), Jack L. Chalker, Cy Chauvin, Howard DeVore, Phyllis Eisenstein, Tom Feler, George Flynn, John Foyster (Australian Science Fiction Review (second series)), Steve Francis, Sue Francis, Lisa C. Freitag, Beverly Friend, Gordon Garb, Deb Geisler, Janice Gelb, Mike Glicksohn (Energumen), Mike Glyer (File 770), Rob Jackson (Maya), Terry Jeeves (ERG), Mary Kay Kare, Morris Keesan, Earl Kemp (el), Dave Langford (Ansible), Roy Lavender, Hope Leibowitz, Eric Lindsay (Gegenschein), Nicki Lynch (Mimosa), Rich Lynch (Mimosa), Race Mathews (Bacchanalia), Craig Miller, Murray Moore (Aztec Blue), Jodie Offut, Mark Olson, Priscilla Olsen, Tony Parker, Bruce Pelz, Andrew I. Porter (Algol), Sarah S. Prince, Tullio Proni, Mike Resnick, Yvonne Rousseau (Australian Science Fiction Review (second series)), Jim Schumacher, Pat Sims, Roger Sims, Jon Singer, Dick Smith, Leah Zeldes Smith, David "Lensman" Sooby, Jack Speer (The National Fantasy Fan), Dick Spelman, John Stopa, David Thayer, Cheryl Thompson, Gregg Trend, Bob Tucker (Le Zombie, Science Fiction Newsletter), R. Laurraine Tutihasi (Feline Mewsings), Tom Veal, William R. Warren, T.K.F. Weisskopf, Jerry Weist, Henry Welch (The Knarley Knews), Peter Weston (Relapse, Prolapse), Tom Whitmore, Art Widner (YHOS), and Joel Zakem.
Dick Smith and Leah Zeldes Smith also published the fanzine Stet.
External Links