Bacchanalia
From ZineWiki
Jump to navigation
Jump to search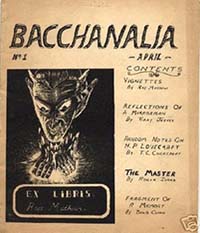 Bacchanalia was a fanzine devoted to H. P. Lovecraft published by Race Mathews and Ian J. Crozier and released in the 1950s in Australia.
The first issue of Bacchanalia was released in April 1953. It was an 8 1/8 by 9 3/4 size publication of 32 pages, edited by Race Mathews. The second, and last issue, appeared in December 1956 and was edited by Ian J. Crozier.
Issue one featured the eight page article "Random Notes on H. P. Lovecraft" by T. C. Cockcroft, as well as other articles and fiction such as "Reflections of a Mirrorman" by Terry Jeeves (Vector), "Vignettes" by Race Mathews, "The Master" by Roger Dard (Star Rover), "Fragment Of A Memory" by David Cohen, and "The Shades Will Fall" by John Ditmar.
The Art Director was Dick Jenssen who also did the back cover art inspired by the Lovecraft story "Pickman's Model". Other art work was by Keith McClellan, Race Mathews, and Bill Price. The front cover illustration by Race Mathews, entitled Ex Libris, is a pen and ink drawing of a demon with an collection of burning people cradled in his hands.
Race Mathews was one of the founding members of the Melbourne Science Fiction Group, and Bacchanalia was one of at least five publications the members created, others being Perhaps, Etherline. Question Mark and Antipodes, all made possible by Amateur Fantasy Publications of Australia.
External Links