Star Rover
From ZineWiki
Jump to navigation
Jump to search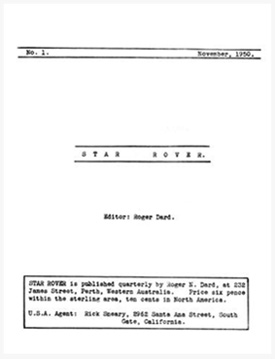 Star Rover was a science fiction fanzine by Roger Dard.
Star Rover was published in Perth, Western Australia, in November 1950. It sold for six pence "within the sterling area", and for ten cents in North America. The Agent for the U.S.A was Rick Sneary.
The contents of Issue 1 consisted of a half-page editorial by Dard, mainly devoted to a plea for submissions otherwise Star Rover would be a one shot; a fanzine review column; an article by Don Tuck titled 'Cities of Tomorrow'; and an article by 'Sherlock' titled "Future Science & Criminology".
Roger Dard was also an Associate Editor of Perhaps, first published in February 1953 by Leo J. Harding. Issue 2 of Perhaps included the article "Witch Hunters of the Atomic Age" by Dard, detailing his experiences with Customs who had seized ninety-eight items from him, consisting of magazines such as Weird Tales, Famous Monsters of Filmland, Official Detective Stories, and Mad Magazine.
In the 1950s he contributed to Australian fanzines such as Bacchanalia, and U.S. fanzines such as Cosmag, Fantasy-Times, and Spaceship, for which he wrote the column "Report from Australia". More recently, Roger Dard has contributed to fanzines such as Mumblings from Munchkinland.