Perhaps
From ZineWiki
Jump to navigation
Jump to search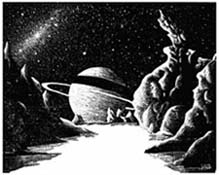 Perhaps: The International Magazine of Fantasy and Science Fiction (1953) was a short-lived science fiction fanzine published in three issues by Leo J. Harding in Melbourne, VIC., Australia.
The first issue appeared in February 1953. Associates in production and editing were Ditmar 'Dick' Jenssen, Roger Dard and Mervyn Binns. The cover was by Ditmar 'Dick' Jenssen. The second issue appeared in December of 1953. Issue 3 was published in January 1954, also with cover art by Ditmar Jenssen.
Contributors included Charles Allen, Charles Anderson, H. J. Campbell, Ian Crozier (Etherline), Roger Dard (Star Rover), John Ditmar, Martin James, Rick Jordan, Orma McCormick (Starlanes), Lee Owen, Kenneth F. Slater (Vector), Bob Silverberg (Spaceship), Hal Shapiro (STF & FSY Songbook), and William D. Veney.
Issue 2 of Perhaps included the article "Witch Hunters of the Atomic Age" by Roger Dard, detailing his experiences with Customs who had seized ninety-eight items from him, which consisted of magazines such as Weird Tales, Famous Monsters of Filmland, Official Detective Stories, and Mad Magazine.
Leo J. Harding was one of the founding members of the Melbourne Science Fiction Group, and Perhaps was one of at least five publications the members created, others being Bacchanalia, Etherline, Question Mark and Antipodes, all made possible by Amateur Fantasy Publications of Australia.
External Links