Feline Mewsings
From ZineWiki
Jump to navigation
Jump to search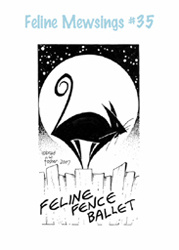 Feline Mewsings is a perzine by R-Laurraine Tutihasi, published in Oracle, Arizona, U.S.A.
Feline Mewsings is mainly distributed within the science fiction fanzine community through the Fantasy Amateur Press Association, and appears quarterly. The first issue appeared in May 2000. The most recent issue, #46, was released November 2011.
Contributions of art work come from Sheryl Birkhead, Rich Chwedy, Brad Foster, Alexis Gilliland, Lee Gold, Amy Harlib, Franz Miklis, William Rotsler, Delphyne Woods, and Frank Wu.
Contributions of writing include a column by Amy Harlib, called "Amy's Motley Musings", and a column by Jonathan Vos Post, called "Jonathan's Science Corner", along with the editor's own writings.
Contributions of photography are by Mike Weasner.
Letters come from David Bratman, Rodney Leighton, Tim Marion, Ed Meskys, Lloyd Penney (Torus), Rita Prince Winston, John Purcell (Askance), Arthur Langley Searles, Dale Speirs (Opuntia), and Roslyn Willis.
External Links