The Knarley Knews
From ZineWiki
Jump to navigation
Jump to search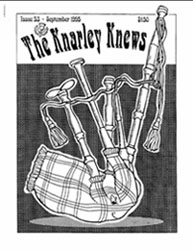 The Knarley Knews is a science fiction fanzine edited by Henry L. Welch, and published by Parody Publishers.
The Knarley Knews is published in Grafton, Wisconsin, U.S.A. It was published throughout the 1990's and the 2000's. In 2008, the editor relocated to California, but kept publishing into the 2010's, the most recent issue appearing in February-March 2012. Layout Editor is Letha R. Welch.
Contributors of art work include Sheryl Birkhead, Randy Cleary, Kurt Erichsen, Brad Foster, Sean Russell Friend (Overspace), Alexis Gilliland, Teddy Harvia, Marie Heatherington, Terry Jeeves (ERG), Trinlay Khadro, Rosy Lillian, Joe Mayhew, Scott Patri, William Rotsler, Marc Schirmeister, Ruth M. Shields, Diana Harlan Stein, Gene Stewart, Kyle Welch, and Alan White.
Contributors of articles include Alexander Bouchard, Todd Bushlow, Randy Byers, Lysa DeThomas, Chris Garcia (The Drink Tank), E.B. Frohvet (Twink), Mike Glyer (File 770), John Hertz, Bill Legate, Rodney Leighton, Guy H. Lillian III (Challenger), Derek Miller, Lloyd Penney (Torus), John Purcell (Askance), Steven Silver (Argentus), Alex Slate, Garth Spencer (The Royal Swiss Navy Gazette, BCSFAzine), Milt Stevens, Ian Stinson, Jim Sullivan, and Julie Wall.
Charlotte Proctor (Anvil) reviewed books and movies in her column "Charlotte's Web". Other columns came from Terry Jeeves, Alexander Slate, E.R. 'Gene' Stewart, and Sue Welch.
Letters came from Ned Brooks (It Goes On The Shelf), Marty Cantor (No Award), Tom Feller, Elizabeth Garrott, Karen Johnson, Robert Lichtman (Trap Door), Joseph T. Major (Alexiad), Eric Mayer (E-Ditto), Murray Moore (Aztec Blue), Joseph Nicholas (Vector), Lloyd Penney, Dave Rowe, Joy V. Smith, Dale Speirs (Opuntia), R. Laurraine Tutuhasi (Feline Mewsings), and Harry Warner, Jr. (Horizons), among many others.
External Links