Challenger
From ZineWiki
Jump to navigation
Jump to search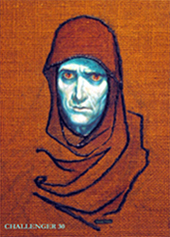 Challenger is a science fiction fanzine by Guy H. Lillian III.
Challenger is published in Shreveport, Louisiana, U.S.A. The most recent issue published was #30, released in Summer 2009.
Contributors of writing include Eve Ackerman, Kevin Anderson, James Bacon (Journey Planet), Greg Benford (Void), John Berry (Pot Pourri), Faye Best, Sheryl Birkhead, Richard Brandt (Fanthology '87), Warren Buff, Jack Calvert, Richard Dengrove (Jomp, Jr.), Dennis Dolbear, Kurt Erichson, Mike Estabrook, E.B. Frohvet (Twink), Chris Garcia (The Drink Tank), Alexis Gilliland, Mike Glyer (File 770), Joseph Green, Alexis Gilliland, John Guidry, Mary Ann van Hartesveldt, Laura Haywood-Cory, John Hertz, Craig Hilton, Albert Hoffman, James Hogan, Binker Glock Hughes, Terry Jeeves (ERG), Dick 'Ditmar' Jenssen (Etherline), Earl Kemp (Destiny), Trinlay Khadro, Tim Kirk, Linda Krawecke (Start Breaking Up, Six Shooter), Rose-Marie Lillian, Nicki Lynch (Mimosa), Rich Lynch (Mimosa), Joseph Major (Alexiad), Don Markstein, Tim Marion, Heather Martinsen, Sue Mason (Plokta), Kent McDaniel (Outre), Charles Mohapel, Alan Moore, Cheryl Morgan (Emerald City), Julia Morgan-Scott, Evelyn Nelson, Jerry Page (Si-Fan), Cathy Palmer-Lister (Warp), Curt Phillips, Charlotte Proctor (Anvil), Jerry Proctor, John Purcell (Askance), Peggy Ranson, Mike Resnick, Gary R. Robe, Lezli Robyn, Steven Silver (Argentus), Olivia Spooner, Gene Stewart, Jan Stinson (Peregrine Nations), Jim Sullivan, Mark Verheiden, Shelby Vick (Confusion), Taral Wayne (DNQ), Elliot Weinstein, T.F.K. Weisskopf Reinhardt, Susan Whitmore, John Widmer, Charlie Williams, and David Williams.
Contributors of art work include Elizabeth Atkinson, Sheryl Birkhead, Jerry Burge (Si-Fan), Kayla Callahan, Randy Cleary, Jerry Collins, Liz Copeland, Kurt Erichsen, Brad Foster, Dany Frolich, Alexis Gilliland, Teddy Harvia, Victor Hess, Craig Hilton, Alan Hutchinson, Terry Jeeves, Frank Kelly-Freas, Tim Kirk, Frankie MacDonald, Sue Mason, Paul McCall, Linda Miller, Julia Morgan-Scott, Peggy Ranson, William Rotsler, Jose Sanchez, Steve Stiles, Rosalyn Watson, Taral Wayne, Charlie Williams, Wally Wood, and Patricia Yeates.
Covers have been by Sheryl Birkhead, Ned Dameron, John Dell, Brad Foster, Dany Frolich, Dick Glass, Frank Kelly-Freas, Linda Miller, Ken Mitcheroney, J.K. Potter, Joshua Quaqmire, Susan Russell, Taral Wayne, Alan White, and Frank Wu.
Also included have been reprints from Lee Hoffman and Bob Tucker, from Quandry.
Some early issues were distributed by the Southern Fandom Press Alliance APA, beginning with issue 2, included in the February - March 1995 mail out.
Guy H. Lillian III also publishes The Zine Dump.
External Links