Destiny
From ZineWiki
Jump to navigation
Jump to search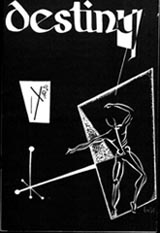 Destiny was a science fiction fanzine by Jim Bradley and Malcolm Willits, published in Portland, Oregon, U.S.A.
The first fanzine that Jim Bradley and Malcolm Willits published was called The Comic Collector's News, in 1947. It is regarded as the first fanzine devoted only to comics. However, after a couple of years they abandoned it in favor of a fanzine devoted to science fiction, which they called Destiny. The first issue appeared in 1950. Ten issues of this title were published, the last in Summer 1954. Later, Bradley left and Earl Kemp came in as co-editor.
Cover art was by D. Bruce Berry, Hannes Bok, Chesley Bonestell, Jim Bradley with Malcolm Willits, Robert Johnson (Orb), Max Keasler, and Stanley R. Sommer.
Illustrations were by Richard Bergeron (Tyrann, Warhoon), D. Bruce Berry, Jim Bradley, Robert E. Briney (Cataclysm), Miles Eaton, Charles Magana, Julian C. May, Naaman Peterson, Ralph Rayburn Philips, Rog, Paul Powlesland, Haskell Richardson, Nancy Share (Hodge-Podge, Ignatz, Torrents), Shelby Vick (Confusion), and Malcolm Willits.
Written contributions of fiction and poetry were by D. Bruce Berry, Robert E. Briney (as himself and as Andrew Duane), Henry Chabot (Asmodeus), Roberta Collins (later editor of G2), Pat Eaton, Henry Ebel (Tyrann), P.H. Economou, Norman R. Jaffray, David H. Keller, Earl Kemp, Nancy Kemp, Allen Kenney, Lilith Lorraine (Challenge, Different, Flame), Carol McKinney (Deviant), Frank Oriole, Paul Powlesland, Wally Weber (Cry of the Nameless), and Mari Wolf.
Articles were by Manly Banister (The Nekromantikon), Robert Bloch, Werner von Braun, Robert E. Briney, Arthur C. Clarke, Vernel Coriell, Donald B. Day (The Fanscient), August Derleth, Lloyd Arthur Eshbach, Earl Kemp, Nancy Kemp, L. Stern Lawrence, Walter Lee, Jr., Sam Moskowitz (Helios, New Fandom), Darrell C. Richardson (The Fabulous Faust Fan-Zine), Elliot Rockmore, George Wetzel, Dr. Fred L. Whipple, and Edward Wood.