Deviant
From ZineWiki
Jump to navigation
Jump to search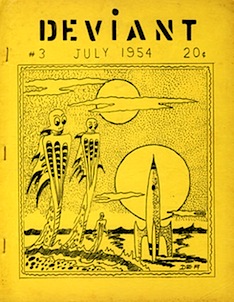 Deviant was a science fiction fanzine by Carol McKinney.
Deviant was published in Provo, Utah, U.S.A. in the 1950s. The third issue appeared July 1954, with the fourth issue in December 1954.
Contributors included Harlan Ellison (Science Fantasy Bulletin), Richard Geis, G.M. Carr (Cry of the Nameless), and Bill Venable (The Pendulum).
Artwork was contributed by Margaret Dominick (DEA).
Peter J. Vorzimer, writing in Abstract #9, calls it "A very fine magazine".
The Fancyclopedia lists Carol McKinney as a member of The Fannettes, an all-woman science fiction club that also published its own fanzine The Femizine in the 1950s. She also contributed to fanzines of the day such as Destiny and Peon, and wrote to the science fiction pulp magazines such as Dynamic Science Fiction, Planet Stories and Startling Stories, later quoted by John Foyster for his article "The Science Fiction Magazine in 1953 (Part 1)" for the March 2002 issue of eFNAC # 20.
External Links