Cataclysm
From ZineWiki
Jump to navigation
Jump to search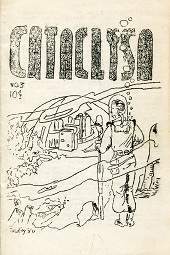 Cataclysm was a science fiction and fantasy poetry zine initially edited and published by Robert E. Briney and Del Close from Muskegon, Michigan, U.S.A.
Cataclysm appears to have run for nine issues from the late 1940s to August of 1954. Many of the issues are undated, but issue #1.3 is dated 1950, issue #1.5 was mailed in March of 1951, and issue #9 is dated August 1954. Issue #2.3 is dated November 1952, and though the editorial of this issue states that it is the ninth issue, it was in fact only the eighth issue.
The introduction to the August 1954 issue states: "This is the ninth issue of Cataclysm. And the last. The preceding eight issues appreared from a variety of publishers at irregular intervals over the course of the last four years. When the magazine started, Del Close was the co-editor and chief instigator; he has since dropped out of circulation altogether.... He put out the first two issues. The third issue was published by W. Paul Ganley.... With the fourth issue, we took on Jim Bradley as Art Editor and publisher; then he, too, dropped out of fandom.... With the seventh issue, we turned the production end over to Brian McNaughton, who managed to publish two issues before being torn forcibly away from the mimeograph. That was over a year ago.... Then came Marion, and here at last is Cataclysm."
Poets appearing in Cataclysm included John Brunner (as Kilian Houston Brunner), Robert E. Briney (as Andrew Duane), Jerry F. Cao, Lin Carter (Spaceteer), Del Close, Tom Covington (Bizarre), Michael De Angelis (Gargoyle), Perry Delane, Isabelle E. Dinwiddie, W. Paul Ganley (as Toby Duane) (Fan-Fare), Bob Johnson (Orb), Laura Kinzer, Lilith Lorraine (Challenge, Different, Flame), H. P. Lovecraft, Orma McCormick (Starlanes), Keran O'Brien, Genevieve K. Stephens (Loki), Emili A. Thompson, James E. Warren Jr., and others.
Art work was by Jim Bradley (Destiny, The Comic Collector's News), among others.