Different
From ZineWiki
Jump to navigation
Jump to search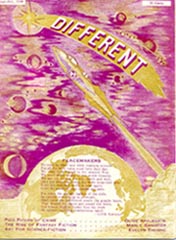 Different is a small press poetry publication edited by Lilith Lorraine and published by Avalon World Arts Academy.
Different, subtitled "The Voice of the Cultural Renaissance", was launched in the mid-1940s and was devoted to poetry, but also published fiction and articles. Writing included both "fantastical" and more mainstream poetry. It was a 32-page publication released in Rogers, Arkansas, U.S.A. up until the Autumn issue of 1951 (Vol 7 #3). It then reemerged in a 40-page digest-sized format in Spring 1953 published in Floral Park, Long Island, New York, U.S.A. It ended with the Winter 1954 issue (Vol 8 #4), although annuals appeared for another three years. Stanton A. Coblentz (editor of Wings) was the Fantasy Editor of Different.
Lilith Lorraine wrote about Different:
"Different was founded as a sincere attempt to use whatever influence we might attain to salvage some last remnants of American culture and to restore within the limits of that influence some of the lost glory of the poetry of earth. For poetry, as we have said before, is the atomic energy of the soul, which exploded against the battlements of hate and terror will level them in the dust of oblivion and leave the liberated soul free in an expanding universe."
Michael Ashley, author of The History of the Science Fiction Magazine writes of Different: "its freshness attracted interest throughout the sf world and helped encourage a new generation of writers" (Ashley, Michael, The History of the Science Fiction Magazine, Liverpool University Press, 2000; pg. 210).
The September/October issue of 1948 (#4.4) included a guest editorial by the U.S. Rocket Society's R. L. Farnsworth called "Stairway to the Stars", and Farnsworth also contributed the article "Dusk Is Falling" to the March/April 1950 issue (#6.1).
Manly Banister, editor of The Nekromantikon, contributed an article, "The Rise of Fantasy Fiction", to the September/October 1950 issue (#6.4).
Contributing poets included George C. Alborn, Olive Applegate, Manly Banister, Garth Bentley, Redd Boggs (Sky Hook), Willis A. Boughton, Marion Zimmer Bradley, Joseph Payne Brennan (Essence, Macabre), Manfred Carter, Thomas H. Carter (Spearhead) Helen Reid Chase, Stanton Coblentz, Lucille Coleman, Judson Crews, August Derleth, Alan Donovan, Alfred Dorn, Leah Bodine Drake, Vera L. Eckert, R. L. Farnsworth, Francis Flagg [George Henry Weiss], Kenneth H. Ford, W. Paul Ganley (Fan-Fare), Covington Hall, Terence Heywood, Hyacinthe Hill (Virginia Anderson), Lucille S. Jackson, Walter H. Kerr, Walt Klein, Duverne Konrick, Vera Bishop Konrick, A. Kulik, Lucie H. Locke, Edward W. Ludwig (Fantastic Worlds), Raymond McCarty, Orma McCormick (Starlanes), William J. Noble, Alden A. Nowlan, Mary O'Connor, Lori Petri, Dorothy Quick, Robert Silverberg (Spaceship), Clark Ashton Smith, Nathaniel Starr, Emili A. Thompson, Evelyn Thorne (Epos), Lewis Turco, John Updike, Michael Wolf, Lewis Worthington, Tom Wright (Starlight), and many others.
Fiction was by George C. Alborn, Garth Bentley, Manfred A. Carter, Helen Reid Chase, Vincent J. Daly, Helen Harrington, Patrick Howland, Duverne Konrick, Lilith Lorraine, Edward W. Ludwig (Fantastic Worlds), James McKimmey Jr., Mary O'Connor, Mildred Parker, Lydia Carleton Passmore, Robert C. Peters, Ruth Rouse, Lewis Worthington Smith, Evelyn Thorne, Paul Wingert, Michael Wolf, Minna Woolhams, and others.
Cover art work was by Lucille S. Jackson.
Lilith Lorraine also published the poetry magazines The Raven, Challenge, and Flame, and the science fiction publication The Avalonian.