Fantastic Worlds
From ZineWiki
Jump to navigation
Jump to search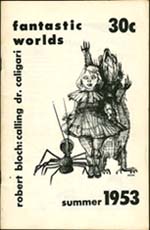 Fantastic Worlds was a science fiction fanzine edited and published by Sam Sackett in Los Angeles, California. U.S.A.
The first issue of Fantastic Worlds appeared in Summer 1952 and was edited by Edward W. Ludwig and Sam Sackett, as was the Fall 1952 issue. After this the next six issues were edited by Sackett with Associate editor Stewart Kemble. It included articles, fiction, poetry, photographs, and illustrations. Eight issues were released, the final issue appearing in Fall 1955.
Contributors included Forrest J Ackerman, (Voice of the Imagi-Nation), William L. Bade, Garth Bentley, Robert Bloch, Howard Browne, June Bryant, Alice Bullock, David R. Bunch, A. Bertram Chandler, Betsy Curtis (The Cricket), August Derleth, Philip Jose Farmer, W. Paul Ganley as 'Toby Duane' (Fan-Fare), Gene Hunter, Clive Jackson, David H. Keller, Barbara Kurtiak, Lilith Lorraine (Different, Challenge), Murray Leinster, Kris Neville, J.T. Oliver (Worlds Apart), Bob Olsen, Tom Reamy (Trumpet), Raymond T. Shaffer, Jr., Robert Silverberg (Spaceship), Clark Ashton Smith, Michael Storm, William F. Temple (Novae Terrae), Wilson 'Bob' Tucker (Le Zombie), Harry S. Weatherby (Shivers), Basil Wells, Walt Willis (Slant, Hyphen), and Virginia White.
Cover art was by Ralph Rayburn Phillips (No 1), Jerri Bullock (Fan Artisan) (No. 2), Lee Hoffman (Quandry), (No 3), Ben Jaxon (No 4), Neil Austin (No 5, No 7).
Illustrators included Bob Bell, Richard Bergeron (Warhoon), Robert E. Briney (Cataclysm), Jerri Bullock, Terry Carr (Innuendo), Jim Hawkins, Lee Hoffman, Ben Jaxon, Maurice Lemus, Novak, Naaman Peterson, Ralph Rayburn Phillips, Paul Powlesland, and Tom Reamy.
Photographs were by Harry Altshuler, Scotty Welbourne, and from the collection of Forrest J Ackerman.
External Links