Quandry
From ZineWiki
Jump to navigation
Jump to search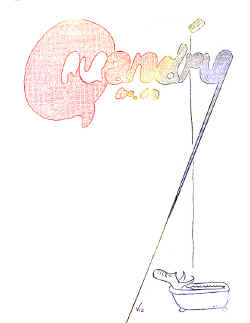 Quandry was a science fiction fanzine that was published by Lee Hoffman in Savannah, GA, U.S.A.
Quandry was considered to be the defining fanzine of its period. It was produced on a mimeograph machine and ran for 30 issues, from 1950 till 1953. The last issue was guest edited by Charles Wells, editor of Fiendetta.
Writers contributing to Quandry included Rose Andley, R. J. Banks (Utopian), Muriel Baxter, Eric Bentcliffe, John Blyer, Redd Boggs (Sky Hook), Charles Burbee (Shangri L'Affaires), Ray Capella, Willis Conover (Science-Fantasy Correspondent), Tom Covington (Bizarre), Tanya Curry, Gerry de la Ree (Loki, Beowulf, Sun Spots), Frank Dietz (Science, Fantasy, and Science Fiction), Rich Elsberry, Dave English (Fantasias), Bob Farnham (The Chigger Patch of Fandom), Joe Fillinger (Ghuvna), Claude Hall (Muzzy), Dave Hammond, Lionel Inman, John Kelly (Worlds Apart), Joe Kennedy (Vampire), Walt Kessel (Cosmic Dust), Lilith Lorraine (Different, Challenge), Orma McCormick (Starlanes), Bill Morse (Bull Moose), J.T. Oliver (Worlds Apart), Bobby Pope (Fanatic Fanzine), Art Rapp (Spacewarp), Peter Ridley, Steffan Samlan, Robert Silverberg (Spaceship), Roger Sims, Basil Shroppford Sloane, Rick Sneary (The Outlander, Moonshine), Jack Speer (The National Fantasy Fan), Robert D. Statton, Hector Torrie, Bob "Wilson" Tucker (Le Zombie, Science Fiction Newsletter), Bill Venable (The Pendulum), Charles Wells, Stanley Wiedbottom, and Walter A. Willis (Slant, Hyphen).
Artists contributing to Quandry included Robert Bloch, Jim Bradley (Destiny), Dan Braun, Grant Canfield, Ray Capella, Michael Devanneu, Gary Fowler, Allen Holut, Alan Larkin, Barry McKay, Ray Nelson, Steve Oliff, Ralph Rayburn Phillips, Peter Ridley, John Rodak, Bill Rotsler, James M. Shea Jr., Jack Speer, Mike Streff (Quantum), Brute Tornley, and Shelby Vick (Confusion).
There were compilations of Quandry, one in 1960 by Robert Lichtman and two in the 1980s by Joe Siclari.
External Link