Moonshine (USA)
From ZineWiki
Jump to navigation
Jump to search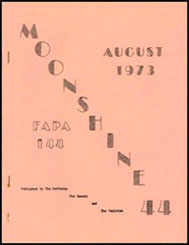 Moonshine was a science fiction fanzine published in California, U.S.A.
Moonshine was edited, at various times, by Len Moffatt, June Moffat, Rick Sneary, and Stan Woolston. Len Moffatt, with Rick Sneary and Stan Woolston, began published Moonshine for the Fantasy Amateur Press Association in the 1940s. The first issue was published September 1942. Issue 10 appeared in Spring 1948.
According to Len Moffatt's account, "Califania Tales Part Four: the APA Fan's Tales", published in No Award #13, from 2003; "I had dropped out of FAPA in 1951, after having been a member for nearly nine years...Actually my original FAPAzine, MOONSHINE, continued in FAPA during my absence, thanks to Rick and Stan, and I sometimes wrote stuff for it."
Len continues, "I got back into FAPA in 1964...This time--with June's help--I stayed in FAPA for almost twenty-six years." In August 1964, issue 32 appeared. After his marriage to June in December 1966, the couple edited Moonshine together, with Rick Sneary and Stan Woolston. At least 53 issues were published in total, with issue 53 appearing in May 1985.
The Art Director for the fanzine was Stan Woolston. A 1948 issue featured a cover of black construction paper with a die cut silver colored corrugated paper moon, and hand stenciled lettering in white ink. The inside pages were mimeographed in sepia brown ink.
Contributors of writing included columns by Len Moffatt, who's column was called "Len's Den"; and June Moffatt, whose column was entitled "Moonshine is a Brighter Thing Than Fog", as well as writing by Rick Sneary, and Stan Woolston.
Contributors of art work included Tim Kirk, among others.
In the 1940s and 1950s, Len Moffatt and Rick Sneary had been editors of Shangri L'Affaires and The Outlander.
Len and June Moffatt also published The JDM Bibliophile, and later The Moffatt House Abroad, their TAFF trip report.
External Links